Some people like to knit. Others play tennis or collect Precious Moments figurines. I myself enjoy visiting roadside shrines made out of broken dishes and seashells erected in honor of God and Jesus.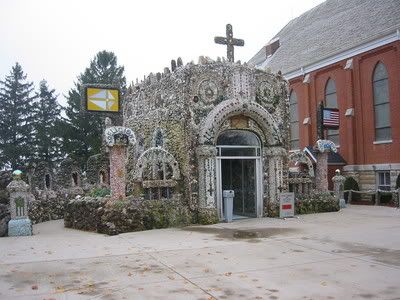 This is the
Dickeyville Grotto
in Dickeyville, Wisconsin. I'll pause for a few seconds while you get the chuckling over that name out of your system. Would it help if I told you the grocery store in nearby Galena, IL changed owners from Dick's to Piggly-Wiggly and decided to transition by putting up a sign saying "Piggly Wiggly Dick's? Didn't think so.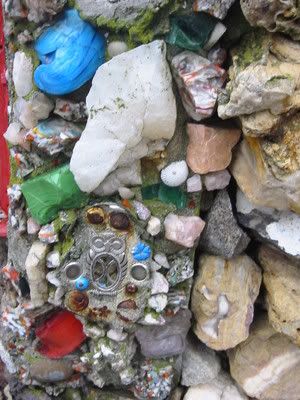 A priest named
Father Mathias Wernerus was apparently called by God to make a shrine to both God and America in this teeny tiny town in Wisconsin. He took donations from his parishioners of shiny rocks, buttons, broken dishes and shells and constructed sculptures out of them. God told him that it was going to be one of the biggest tourist attractions in the country. It hasn't quite worked out like that but I have high hopes.
One of the best things about the Dickeyville Grotto is its shrine to our country.
There's something about the wording of that plaque that makes me swell with patriotism and pride.
I love Dickeyville and its grotto and I thought it would never be topped in my heart. I should tell you that when I was growing up, my mom had a bone chip from St. Elizabeth Seaton that someone loaned her as a relic. I have also gone to the Vatican, own a Pope John Paul II bottle opener and have seen a saint encased in oil in a glass coffin in a church when I went to Rome. When I say Dickeyville was number one, I am not making that statement out of ignorance.
Then, this fall, I traveled to Alabama and discovered the
Ave Maria Grotto
. I feel awful, like I'm cheating on my good pal up in Wisconsin, but I have to say I fell madly in love with this place.
It's 20 times the size of the one in Dickeyville (yes, I like saying Dickeyville) and it is filled with wonders, such as this church connected to the Statue of Liberty.
It also showcases more modern buildings, such as this architectural wonder.
The creator of this grotto didn't forget where he came from, either.
Towards the end of the tour, he seemed to start running out of material a little, though.
I guess there are a lot more seashells in Alabama than Wisconsin, which makes sense.
I love both of these grottoes because I love imagining their creators suggesting them and then persuading people to let their visions come to fruition. I've always been drawn to people who dream big, even if their dreams involve creating religious shrines out of gear shift knobs and broken porcelain dolls in small towns.