Oh, so remember that whole thing about this being a weight loss blog? I have managed to use magic tricks and glitter and stories about petting coyotes to make all of you forget about that. Except for you, Jess L. You're my conscience when it comes to that whole thing, and I appreciate that.
As my friend Susan reminded me last week, my fifteen year high school reunion is in April. I am not sure how the heck that happened since I am still mentally fifteen, but that's what the calendar says. As a result of this and not wanting to have people not recognize me because of my many chins, I am putting this fitness and diet crap back on the front burner.
(Actually I weigh less now than I did when I graduated from high school. Also I used to dress like this, so I think we're golden on the whole looking better than I did in 1996 thing)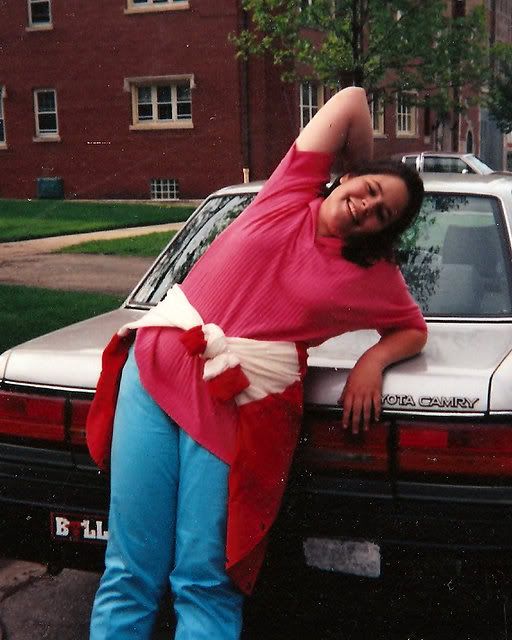 I don't even know what to say about the above picture so I'll just smoothly segue away from the fact that apparently I not only didn't own a mirror, I also dressed like an easter egg.
So I signed back up for Weight Watchers online, which worked for me in the past. I am starting that today and apparently there are a billion new aspects to it, but I'm confident I'll figure it out eventually.
I am also exercising, but probably taking it slow for a while. I think I messed my hip up again this morning. Just another day at the nursing home I apparently live at now. Hopefully it's just a pulled muscle and it'll go away, but I think walking is the only exercise I should be doing until I figure out what I'm going to do for physical therapy.
As in every diet that has ever worked for me, I'm going to cook at home more, drink more water, eat less crap and exercise. I should patent that magic formula for weight loss success, although I'm not sure I'd be the best spokesperson right now.
I will check in once a week and do a ticker thing on the sidebar so you can marvel at how well I am doing. My pride can't take any more "Well, I tried, you guys, but excuse excuse excuse excuse" type of posts, so keep your fingers crossed. I'm sure that burns calories, so that's a bonus.