When I was 18 years old I fell deeply in love with an older man. He was filled with excitement about life and his career, and his enthusiasm was infectious. I fell under his spell after seeing him only once on a cold December afternoon. I'll never forget turning to the little boy I was babysitting for and saying, "Whoa, who's that?" My heart thumped in my chest and I felt light-headed.
"That's Brett Favre, duh," said the charming little moppet. I was hooked.
I can't even tell you the derision I faced because of my love for Brett. My family, devout Bears fans, was shocked and appalled by my Favre jersey, not to mention my Brett Favre ornament. I traveled to Wisconsin to see him play a game at home and down to Miami to see him play the Dolphins. I can quote his scene from "There's Something About Mary" word for word.
In 2006, I went downtown to Neimen Marcus to see Brett Favre make an appearance for Sensodyne toothpaste. Oh, the things we do for love (me) and money (Brett).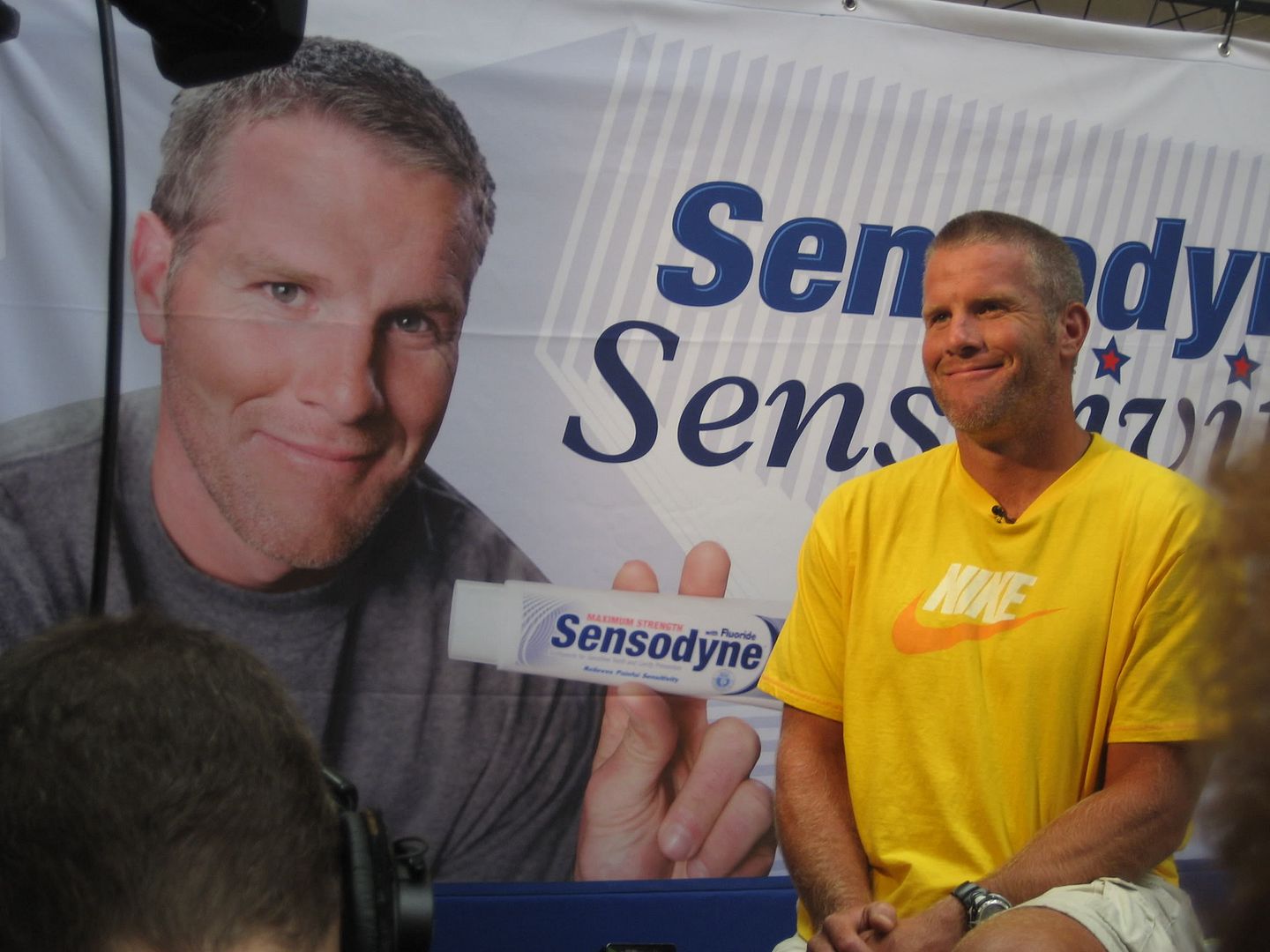 We made direct eye contact twice, and I felt incredibly guilty when I saw his wife in the crowd (because as we've established, I'm crazy and have more Catholic guilt than pores).
I forgave him his faults and foibles and interceptions and loved him unconditionally, even when he signed with the Vikings, my 32nd favorite team in the NFL. The retirement sagas of the past few years were rough, but still, I defended him and cheered for him and slept in my faded Favre jersey.
But now... penis-gate. (I know my mom is cringing right now because she thinks I'm going to talk about the disappointingly small size of Brett Favre's penis. Don't worry, Mom! I won't do that!)
Seriously, how frickin gross is that? Some older guy hits on a woman he works with, she doesn't respond to his advances so he sends peener pics to her phone? I'm sorry, but my women's studies minor and my common sense won't let me call that anything other than sexual harassment and creepy, icky, lecherous behavior.
At first it was funny, just because so many people who knew about my love of Mr. Favre sent me the pictures, and I admit there was some, uh, curiosity on my part about that whole area of his anatomy. But now, ick. I am grossed out even seeing him on the sidelines. I'm embarrassed for his family and for any of the ladies he sent "little gifts" to, and yeah, the little there means exactly what you think it means.
So I am finally over my crush on Brett Favre, 14 years after it started. I can't support someone who does something like that. Plus, he never texted anything to me, even after the restraining order expired!